Everything you ever wanted to know about The Ocean City Comic Con but were afraid to ask!
Is there parking at the venue?
• There is indeed and best of all it's FREE! That said, the lot at the convention center fills up fast. There is lots of street parking around the venue (you may need to drive around a bit and walk a few minutes to the convention center), there are municipal lots around Ocean City and they are free this time of year. You can park in them and catch the bus which runs every 30min and is only $4 for an all day pass, or better yet show the driver the image below for FREE FARE from 8am-6pm on Dec. 9th! Of course we encourage carpooling; it's saves money, it saves parking, and it's good for the planet.
City parking info:
https://www.ococean.com/parking-information
City bus info:
https://oceancitymd.gov/oc/departments/public-works/ocean-city-beach-bus/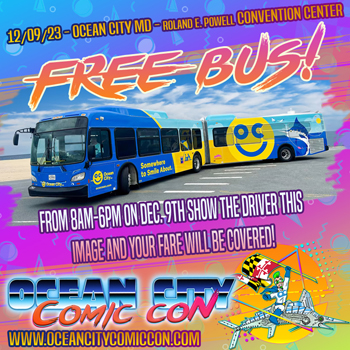 What Time does the show start and end?
• The show opens Sat. Dec. 9th 2023 at 10am and closes at 5pm
Where is the show?
• Roland E. Powell Convention Center. 4001 Coastal Highway Ocean City, MD 21842
Can I pay for admission in advance?
• Admission is available at the door, day of, at the Convention Center as well as in advance here:
https://oceancitycomiccon.ticketspice.com/ocean-city-comic-con
. We will accept credit cards and other contactless payment options. Admission cost is just $12, kids 9yo and under are FREE with a paying adult. There will be a small ticketing fee on advance tickets. You can get $1 off if you show up in costume, and a $1 off if you bring a nonperishable food item for Diakonia inc.(These discounts are not available on advance tickets). There is an ATM in the lobby for your convenience. And remember, if paying cash exact change and small bills keep the line moving faster and would really help out!
Harassment:
We have a zero tolerance harassment policy. If anyone is found harassing another con goer, exhibitor, guest, or volunteer they will be instantly ejected from the convention and no refund will be given. If you feel you are being harassed, witness someone else being harassed, or have any other concerns, please contact an Ocean City Comic Con staff member immediately. Staff has the ability to contact local law enforcement, and can provide escort, or otherwise assist those feeling they have experienced harassment to ensure they feel safe for the duration of the convention. Also, and we can not stress this enough, COSPLAY IS NOT CONSENT!
Are there costume/cosplay rules or guidelines?
• Yes. We insist that your costume not have any parts or accessories that can readily cause harm to you, or any of your fellow con goers. No real weaponry (live firearms, metal blades or metal weapons of any kind, crossbows, etc.) may be carried. No AirSoft, Pellet, paint, or BB guns, basically no replica guns with moving parts. Nothing that can fire a projectile of any kind (Nerf weapons are the exception here, but leave the darts at home please). Realistic guns MUST have an orange blaze on the tip, and must not be made of metal. Use common sense. If you have any worry that a part of your costume might cause a problem or get you removed from the convention, arrested, or injured, please leave it at home. We understand you are trying to create the most realistic and fantastic cosplay, and we want that for you too, however we must error on the side of safety and legality. Note that any convention staff member can ask you to take any item to your vehicle at any time if they feel that item may be a danger. All decisions on this by convention staff are final.
May I interview your guests?
• That is completely up to the guest. Please be respectful, if the guest says no please leave it at that.
A guest was listed on the website yesterday, and now they're gone? What happened?
• Sometimes guests do have to cancel for a variety of reasons (work, family, etc.). We do not guarantee that guests will be there even if they have confirmed. Sometimes things just come up.
Do the guests have their own items to sign, or do I have to bring things for them?
• Well, both! Many guests will have their work for sale that they will happily sign for you. You may also bring your own items for them to sign (some guests do charge or require that you purchase something from them in order to get a signature. This is completely up to the individual guest)
Can I take pictures of everything and anything?
• Well… yeah, sort of. Some people may not want their picture taken, and some artists/vendors may not want pictures taken of their work or products, so be sure to ask first. Please be sure not to block aisles when taking photos.
Will the Comics guests draw something for me?
• You'll have to ask them. Most will do a sketch for you for a nominal fee. You'll have to check with them to see if they do offer sketches or commissions, and how much they charge for it.
I'm interested in an Artist Alley/Vendor booth. Are there any available?
• Booth sales are not yet open. Head over to the
contact page
in May for detials.
I booked an Artist Alley/Exhibitor table, but I need extra passes. How do I get them?
• Well, you get 2 passes with each booth. If you require more they can simply be paid for at the door at $10 each.
What are the requirements to submit an exclusive for the show?
• Basically the requirements are that it be something exclusive to the show. A print, comic cover, t-shirt or whatever really just as long as it is exclusive to the show. We will list your exclusive in the show program. Please contact us first before starting your exclusive to be sure it is a good fit for the show.
Can I re-enter the show if I leave?
• Sure! Your admission is good for the whole day so long as you have your wrist band.
Is there a Costume Contest?
• There is! Check the cosplay page for full details!
Will there be any panels, screenings or other events going on at the Convention?
• Absolutely! We will have Anime screenings all day (presented by DAS), panels all day, and some other fun events as well.
Is there an extra charge to attend a panel or screening?
• Nope. As long as you're an attendee of the show, you can attend any panel, screening, or contest!
I'm a guest, or Artist in Artist Alley, or Publisher or video game developer, etc, etc. and I would like to host my own panel. Is that possible?
• Sure! Shoot us an email at
coordinator@oceancitycomiccon.com
for details.
I would like to have a panel to promote my product or service. Is that possible?
• In a word; no. If you are interested in sponsorship or advertising opportunities please contact us at
coordinator@oceancitycomiccon.com
How do I buy things at the convention? Do the exhibitors only take cash, or can I pay with a Credit Card?
• That depends on the exhibitor! All of them take cash, some are set up to take Credit Cards. Be sure to ask what forms of payment they accept before agreeing to any purchases.
Are fans allowed to wear costumes at the Convention?
• Allowed? Allowed?! We want you to wear costumes! In fact we are so serious about you wearing costumes we are knocking $1 off admission if you come in costume. On top of that we will be having a costume contest full of fun and prizes.
Can I advertise on your website, on your fliers, or in your program book?
• Sure, send an email to
coordinator@oceancitycomiccon.com
for details.
Can I show up at the con and hand out fliers to your attendees?
• Yes, but please be respectful and do not "push" people. If they do not want a flier don't force the issue. Basically if anyone complains you will be asked to stop fliering. Also please do not litter, if you see your fliers on the ground please pick them up. Please do not tape anything to the walls. Please be sure that that whatever you are fliering for is somehow related to comics, anime, gaming or something pertaining to geek culture. There will be tables set up for people to put fliers on.
Are bags and backpacks permitted into the show?
• Yes they are. We do ask that you use common sense when toting them around, as some backpacks are large, bulky and unwieldy and can block aisles or knock into things when you turn around. • Also, bags may be subject to search, so be sure you don't have anything in there that you shouldn't!
May I bring a pet to the show with me?
• No, you may not. The only animals allowed at the show are service animals.
Is there a dress code?
• We only ask that your dress be appropriate. No clothing with expletives, nudity, or hate speech on it. Make sure nothing is showing that a bathing suit would normally cover. And please, no ahegao or hentai depictions on clothing.