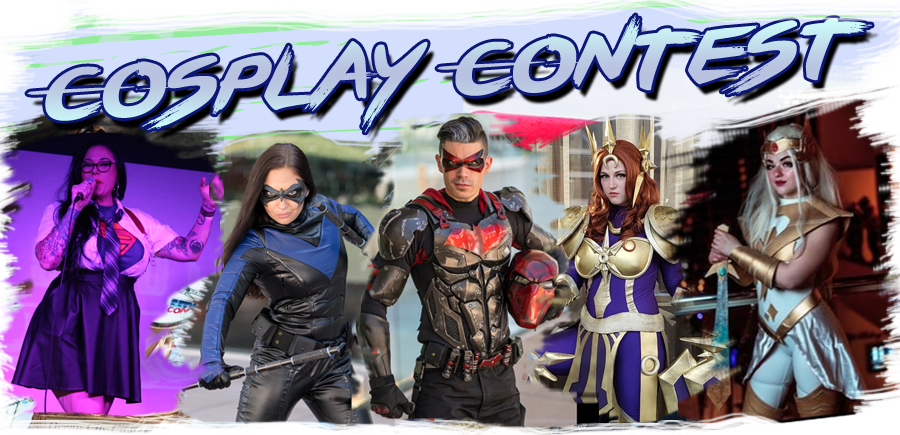 Join us for our cosplay contest! There are two categories kids (12 and under), and adults (13+). We have a HUGE assortment of prizes for first, second, and third place in both categories, plus every kid who enters will go home with a prize. But win or lose, enter the contest or not, everyone wins because coming to the con in costume will get you $1 off your admission. The contest will be hosted by the fabulous Kati Coe, with judging by the awesome Jesse Jarvis, Carter Cosplay, and Toxic Girl Cosplay. We are excited to see everyone's creations on Dec, 14th!
-Sign-ups are FREE.
-Contest will be held at 3pm.
-Sign-ups for the contest will be 11am-2pm.
-Adults cap at 75 contestants (so sign-up early!).
-No cap on kids.




Cosplay Guest: Kati Coe

Kati Coe is a cosplayer, toy hunter, and supporter of all things nerdy. She has been featured on numerous media sites, including NerdCaliber, and Marvel.com, and has also appeared on the AMC series Comic Book Men. As the co-owner of Red Bandana, a toy/comics/video game shop, she loves attending conventions where she is able to meet other enthusiastic advocates of geek culture. Well known for her willingness to help others, she frequently hosts instructive panels that highlight tips and tricks for cosplay construction. As a guest for many East Coast conventions, she has often voiced her support of inclusivity within the community, hoping to help build a strong foundation of acceptance for all.
http://lovekaticoe.storenvy.com/
https://www.facebook.com/LoveKatiCoe
https://www.instagram.com/katicoe/




Cosplay Guest: Carter Cosplay

Carter Cosplay features as Agent Carter from Captain America the First Avenger as well as Captain Carter from the comics and Agent Carter from the television show. Carter Cosplay also cosplays as other popular characters such as: Cheryl Tunt from the show Archer, Charlotte Vandertunt from Archer Noir, Jyn Erso from Star Wars Rogue One, Lady Buella Percy for 7 years at the NJ Renaissance Faire and debuting this year as an original character, Madame Trixie Hyde based on Jekyll and Hyde. Carter Cosplay will be hosting a panel at Ocean City Comic Con; "Cosplay is for Everyone!" Cosplay does not discriminate in any way, shape or form. No matter what your race, gender, weight, height, etc - cosplay is for everyone. Everyone can cosplay as long as the passion is there and you want to cosplay. No matter what skill level you are from creating your own costumes to buying costumes, you are still and can be a cosplayer. If you can dream it, you can be it!
http://cartercosplay.com/
https://www.facebook.com/CarterCosplay007/
https://www.instagram.com/cartercosplay/
http://cartercosplay.tumblr.com/
https://www.pinterest.com/kknowlton007/agent-carter-cosplay/



Cosplay Guest: Ally Blaze

Ally Blaze has been a fixture on the east coast convention scene for over three and a half years. You may recognize her from her most popular cosplays; Marvel's X23 or DC's Nightwing. "Cosplaying is an amazing hobby for me that allows me to meet new people and share the same passion with others that love it as much as I do. Cosplaying has made a huge impact on my life. I not only made some great friends within the community, but I also met the love of my life that shares the same passion too."
https://www.facebook.com/Ally-Blaze-Cosplay-563614717362570/
https://www.instagram.com/ally.blaze/




Cosplay Guest: Sharon Rose

Sharon Rose is a Pennsylvanian cosplayer, curvy model, published author and artist, and lover of comics. Known for her detailed EVA foam armor crafting, props, and paint finishing, she has been featured on the cover of Cosplay Culture magazine and in numerous geek culture media sites, including Marvel.com and Geeks Are Sexy. Sharon is a Cosplay and Comics page model and is an admin for its affiliate page Full Figured Cosplay, and is a vocal advocate for cosplay inclusivity and body positivity. She is also an admin for SheProp!, a propmaking forum for women and nonbinary makers, and has been a judge for the Keystone Championships of Cosplay. Sharon is a member of the Central PA Avengers, a nonprofit volunteer team of cosplayers who partner with hospitals, charity groups, and community organizations to bring smiles to kids and adults alike. When she isn't in her studio covered in paint, glue, and fabric, Sharon can be found working at an academic library, drinking coffee, or snuggling with her cats.
http://www.instagram.com/sharonrosecosplay
http://www.facebook.com/sharonrosecosplay
http://twitter.com/sharonrosecos
http://sharonrosecosplay.storenvy.com




Cosplay Guest: Lady J

Lady J is a Philadelphia based Cosplayer and Forensic Scientist. As a forensic scientist Lady J does her part to keep the streets safe by day and on her off time continues to express the importance of truth, justice and love for humanity through cosplay. Lady J believes cosplay is so important because it allows people to share experiences, express their creative/artistic sides, is an important outlet that allows us to becomes our favorite heroes/villains and share the positive effect these stories of heroism can have on an individual. Lady J not only cosplay's for those reasons but to spread Cospositivity: acceptance to all shapes, sizes, colors, genders, skill level etc. and to use it to help spread the word and fundraise for charities (such as our real life heroes' vets, officers, firefighters, medical research such as cancer, diabetes and children's charities). This love for charity work has developed into a charity cosplay group called the Philadelphia Avengers which Lady J is a founding member. The Philadelphia Avengers mission is to help spread joy and positivity through cosplay and charity. They have helped charities such as Toys for Tots, JDRF diabetes Run, Light the Night Walk for Leukemia just to name a few. In 2015 Lady J presented her first panel Beginning to Cosplay and Cospositivity at Wizard World Comic Con in Philadelphia and has continued to spread the message ever since. She has also presented at Dover Comic Con, Rhode Island Comic Con, Great Philadelphia Comic Con and continues her message on social media and beyond because Cospositivity is so important to her. Lady J has been a guest at Dover Comic Con, OC Con and Great Philadelphia Comic Con. She has also appeared at Lehigh Valley Comic Con, Awesome Con and Jersey Shore Comic book shows with the Philadelphia Avengers and continues to travel the circuit as both attendee and guest. Lady J is also a member of the Philadelphia Power Rangers where she is known as Philly Yellow. You can also see Lady J in print in the May 2016 issue of Cosplayzine magazine. Lady J is also the owner of Lady J Nerdy Shop, whose mission statement is to bring geeky goodness to everyone at affordable prices.
instagram.com/ladyjcosplay
www.facebook.com/ladyjcosplayphilly
twitter.com/ladyj_cosplay




Cosplay Guest: Steampunk'd Batman

Jason Sean Hettel is new to the cosplay community and has been cosplaying since June 2018. He became inspired to try his hand at cosplaying after attending some events and seeing the wonderful creativity of so many artists and cosplayers. Jason has been involved in many aspects of the art community since childhood. His career in the arts community has included, but has not been limited to his scenic artwork in the theater, film, and commercials. He has also been a set designer for several theatrical productions. Jason has also been in several juried art shows in multiple disciplines and mediums. He was also a selected artist for the University of Kentucky's "Wildcat Madness" sculptures around Lexington, Kentucky. His work has been featured in the book "Wildcat Madness", as well as two art magazine publications: Art in America and ARTFORUM. Jason is currently a Stained Glass Artisan at Beyer Studio Inc., located in Philadelphia, Pennsylvania.
http://www.instagram.com/SteampunkedBatman
http://twitter.com/DSteampunk




Cosplay Guest: Fanbustion

Fanbustion has been cosplaying professionally since 2017. It all started with a fun & simple cosplay of Jessie from Pokemon and she has fallen in love with the artistry of cosplay ever since. As for performance experience, she has been apart of many plays/ musical productions. Fanbustion has been lucky enough to be apart of the SU momocon 2018 panel, BCC SU panel, & BCC Abraclodabra performance. She has been apart of several costume contests and have won 1st place in 3 of them.
www.facebook.com/Fanbustion/